This past weekend I ran a Node Bootcamp on behalf of Microsoft and in partnership with the fine folks at Cloud9 IDE – the goal of these camps is to help teach newbies Node.JS and to get some Node.JS-on-Azure business from attendees who have a good experience.
So I decided to build a sample Socket.IO application that leverages our platform and would give our attendees a base to work from when it came time for them to participate in the Node Bootcamp Hackathon. I've done a lot of work with Express on Node but had never really done much with Socket.IO, so I was curious to see how hard it was to pick up.
Total time to build and deploy this application from end-to-end, including learning Socket.IO: about 5 hours.
The Requirements
All I wanted to build was a basic chatroom – a simple version of JabbR or something of the sort. Below is a screenshot of the finished product, to give you an idea.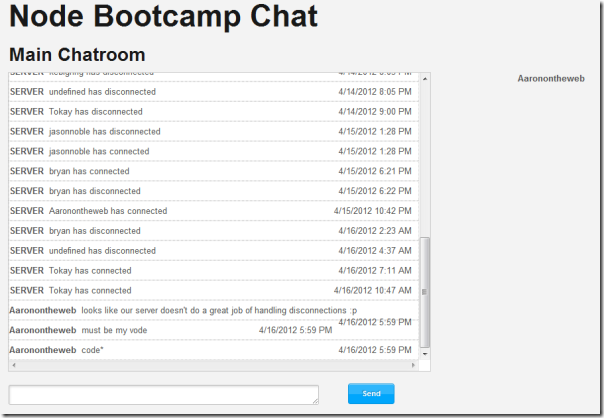 The chat room I wanted had these simple requirements:
All currently connected users would be displayed in a list alongside the chat room at all times;
Whenever a user connects or disconnects an alert will be displayed to all other members of the chat room and the participant list would be instantly updated;
A new user should always be able to see the 30 previous messages in the chat room, including messages from the server;
All new messages are always added to the bottom of the list, and the chat window always scrolls down to accommodate any new users;
All users are required to have a registered chat handle; and
It had to be cross-browser friendly.
These are all pretty simple requirements for a single chat room; nothing too daunting here.
The Tools
So I decided that to pull this off these technologies would make the best fit:
Server-Side
Client-Side
Foundation CSS – I am an idiot when it comes to CSS; I suck at it and will probably never be very good. Thankfully Foundation is so easy to use that I can fake client-side competence pretty well with it.
KnockoutJS – socket.io and Knockout are like chocolate and peanut butter: they were meant to be together. Being able to seamlessly update the chat room's DOM whenever a new message arrived or a user connected / disconnected made building the front-end tremendously easier.
dateformat.js – a popular JavaScript for applying intelligent format strings to timestamps and datetimes; I use this in virtually all of my projects (including ASP.NET MVC.)
The Design
The design of this application is straight forward.
Our Express server redirects users who are not cookie'd with a handle already to a sign-in page where they can get one; once they do have a cookie they are sent to the root document which runs the chat server.
socket.io handles all of the chat + user events across XHR given that we're hosting the application inside of IIS, which doesn't yet support the WebSockets protocol (next version!)
Knockout handles the client-side events from socket.io and updates the DOM accordingly.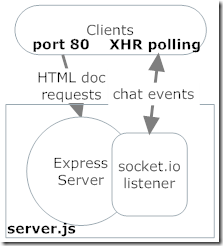 Next in the series:
Part 2 – Setting up Express and session-handling;
Part 3 – Setting up socket.io
Part 4 – Integrating socket.io on the client-side with KnockoutJS
Part 5 – Using Azure Table Storage for persistent chat
Source Code:
If at any time in this series you want to see the source code to this application, visit my github repo for nodebootcamp-chat here or see it live in action at http://chat.nodebootcamp.com/